L
A
M
o
N
o
c
h
a
r
c
o
a
l
c
h
i
c
k
e
n
Our passion for food and service extends beyond our restaurant offering.
With a talented and experienced team of event managers, chefs and staff, La Mono catering is renowned for delivering a bespoke and exceptional experience for you and your guests.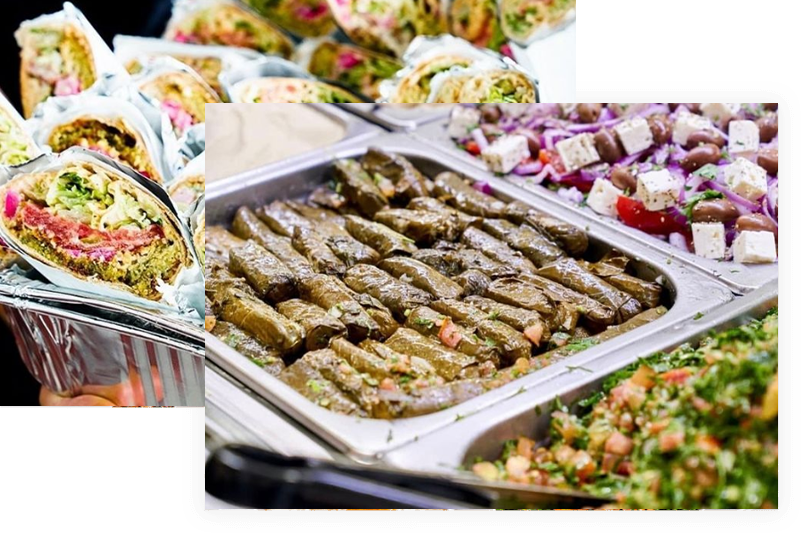 From intimate private gatherings to large gala dinners, La Mono will work with you to create a unique culinary experience to suit every occasion.
Contact our friendly team for your next event.
La Mono Food Catering Services
La Mono catering services are tailored to your function or event, bringing our authentic cuisine, exceptional flavours, and friendly service together to create an exceptional experience for you and your guests.
No matter the occasion, La Mono can prepare a catering menu that's sure to impress.
Make your special day that much better with the authentic Lebanese cuisine from La Mono. We offer cheap wedding catering packed full of outstanding value and bold flavours, creating a menu that is customised to suit your taste preferences.
Our skilled team can provide the perfect catering solution for your wedding, whether you're arranging an outdoor reception, formal sit down dinner, or banquet-style feast.
La Mono has a selection of menu items prepared by our talented chefs including:
Our famous Lebanese charcoal chicken
BBQ Kafta
Shish kebab
Burgers
Rolls
Fresh salads
Flavourful side dishes
Reach out to the helpful team at La Mono for more information about cheap wedding catering near you.
Your venue, your party, our authentic cuisine.
Celebrate your birthday with friends, family, and a delicious feast prepared by the La Mono catering team. Our event managers, chefs, and waitstaff will prepare and execute a birthday party catering menu that will satisfy every appetite.
We can help organise the perfect spread to suit every occasion, taste preference, and dietary requirement. From burgers and rolls to shared banquets and portions of our famous charcoal chicken, La Mono delivers party food catering tailored to your event.
And of course, no birthday would be complete without a dessert to top it all off, such as our Giotto gelato cakes or Belgian waffles.
Looking for the best party food catering services near you? Reach out to the experienced team at La Mono.
La Mono offers a wide selection of fresh sides and finger food that can keep the guests at your next gathering happy and well-fed. Whether as an appetiser before the main course, a flavourful spread before a corporate event, or a delicious accompaniment to a cocktail party reception, our finger food catering will be perfect for any event near you.
No special occasion is complete without a decadent dessert or two and La Mono has a catering solution to satisfy every sweet tooth. We have a variety of classic and signature Lebanese desserts, coffee, milkshakes, and more, available for your next function.
Our desserts include:
Strawberry and turbo ashta
Fruit platter
Belgian chocolate fondue
Chocola moore
Strawberry brownie
From weddings and formal dinners to birthday celebrations and friendly catch-ups, La Mono catering provides the best food and desserts for every occasion.
The friendly team at La Mono is passionate about elevating your event through our incredible cuisine and authentic flavours. That's why we offer catering delivery to help simplify the planning and organisation of your next event.
No matter the occasion, the experienced La Mono catering team will work with you to prepare an exceptional menu, delivered directly to your venue.